The

Protimeter Grainmaster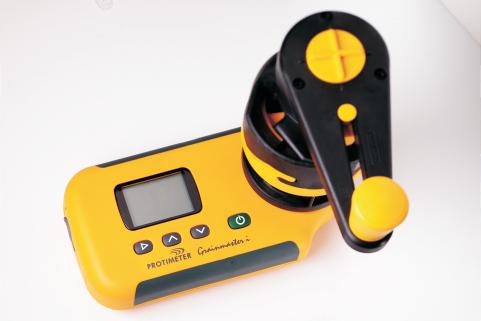 The Protimeter Grainmaster is a highly versatile instrument to measure the moisture and temperature of crops.
The meter is pre-programmed with 15 crop calibrations, each of which can be adjusted individually, if required, for matching with respect to commercially used instruments.
The Grainmaster is supplied in a pouch with grinder-compressor unit, grain cup, sample spoon, brush and 'Quickcheck'. In addition to the 0-100 relative scale, the 15 pre-programmed calibrations include: Wheat, Barley, Oats, Oilseed Rape, Canola, Linseed, Peas, Corn, Sunflower, Coffee, Soya, Rice, Sorghum, Paddy and Beans.
The Grainmaster is supplied with an integrated grinder-compressor unit that enables the user to take moisture readings in ground samples very quickly and simply. There is also a range of optional probes for measuring temperature in stored grain (GRN6046) and moisture levels in baled hay and straw (GRN6138).
After more Information? Accessories?
◾ Grainmaster Accessories
◾ Grainmaster Data Sheet
◾ Grainmaster Manual
◾ Questions / Click here to contact us